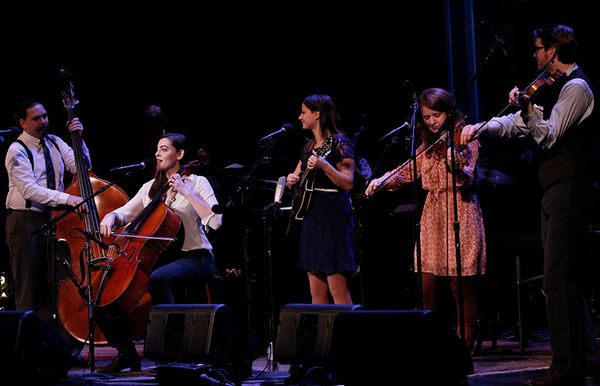 You know, the idea of being on A Prairie Home Companion was completely surreal, even after we got that phone call confirming that we'd been invited to play on the show. Before that, we thought it as far-fetched as being invited to play on The Grand Ole Opry or landing a feature in Rolling Stone. It felt so "big-time," I guess because it is. We had the opportunity to work with Garrison Keillor, a legend in the world of radio and entertainment; we had our own dressing room, time to get to know some of the best musicians in the biz; and we played, not only for an auditorium of 3,000 people in our home-state of Arizona, but for another 4 million listeners tuning in from all over the country. Talk about exposure. 
Here's one thing that we didn't expect, and that shocked us as much as anything else: the pure warmth and acceptance we felt upon first stepping backstage into the world of APHC. As "big-time" as it is, we were struck by how friendly and down-to-earth the cast and crew was. From the beginning, we were made to feel welcome, and to feel as if we were valued members of the show. 
Needless to say, when Garrison nonchalantly strolled into our dressing room shortly following the show, MacBook in hand, staring over his thick-rimmed glasses at the screen, pawing at the mouse pad, and asked us, "When can we schedule for you people to come back on?", we were flabbergasted and thrilled. We had very suddenly come to inhabit this world that, just one week before, had seemed so inaccessible. It was hard to believe that that man, whose resonant hum-of-a-voice we'd listened to on radio since we were but wee tykes, took to us and, in fact, wanted more of us. 
We couldn't feel more privileged, grateful, and ecstatic to have become a part of something that we've loved from a distance for so many years. One month later and we're preparing to make our way up north to the icy land of St. Paul, Minnesota for another appearance on APHC. 
We'll be playing on Saturday from 5–7 PM, CST (4–6 AZ time). Has it become any less surreal? No. I'm still pinching myself. 
You can read all about the first show here: 
Coming to you this week live from ASU Gammage in Tempe, Arizona, it's A Prairie Home Companion with Garrison Keillor. With special guests, songwriter and cowboy poet Gail Steiger and old-time bluegrass outfit Run Boy Run. Also with us, the Royal Academy of Radio Actors, Tim Russell, Sue Scott, and Fred Newman, The Guy's All-Star Shoe Band, and the latest News from Lake Wobegon.
http://prairiehome.publicradio.org/programs/2013/01/19/
I'll leave you with a few of our highlights from the show (inevitably, we will have many things to add to this list following our performance in St. Paul this Saturday). Enjoy, Bekah 
Run Boy Run's List of APHC Highlights 
Grace's initial phone call from Garrison, who was calling to inquire about a couple tunes he wanted to play with us. In a stupor, she thought for certain she'd been prank called, but, thankfully, played along. 
Playing and visiting with members of The Guy's All-Star Shoe Band and actors Sue Scott, Fred Newman, and Tim Russell Things we learned: One man (Fred Newman) makes all of those sounds! Aliens, horses, falling coconuts, you name it! Also, that Shoe Band is likely one of the most versatile and flexible bands out there—they are amazing to watch live. 
Meeting fellow Arizona musician, Gail Steiger, and hearing the details of his life on an Arizona ranch through original music and poetry—incredibly moving. 
Being a part of the Academy of English Majors parody with Garrison and the rest of the cast. 
Watching Garrison tower over Jen as she announced that we'd be playing "Little Girl," and then watching him stare at her from on high while replying in the way he does, "Oh…how appropriate." 
Garrison's words of pity for "the poor orphan boy" in the band (that's Jesse). His mom, Betty, cleared the air backstage: "Don't worry, Garrison. Jesse's not a poor orphan. I'm his mother." Garrison seemed happy to make the acquaintance. 
Having our website crash as a result of all the traffic that night—a good and a bad thing at the same time! We were thankful for Jesse, our software engineer, who managed to get it back up and running before the night was over. 
All of the great feedback. We're all the more excited for the release of our new album So Sang the Whippoorwill, which will include several of the tunes we played on APHC. That'll be hot and ready on March 19th. 
Playing our original music for an audience of 4 million